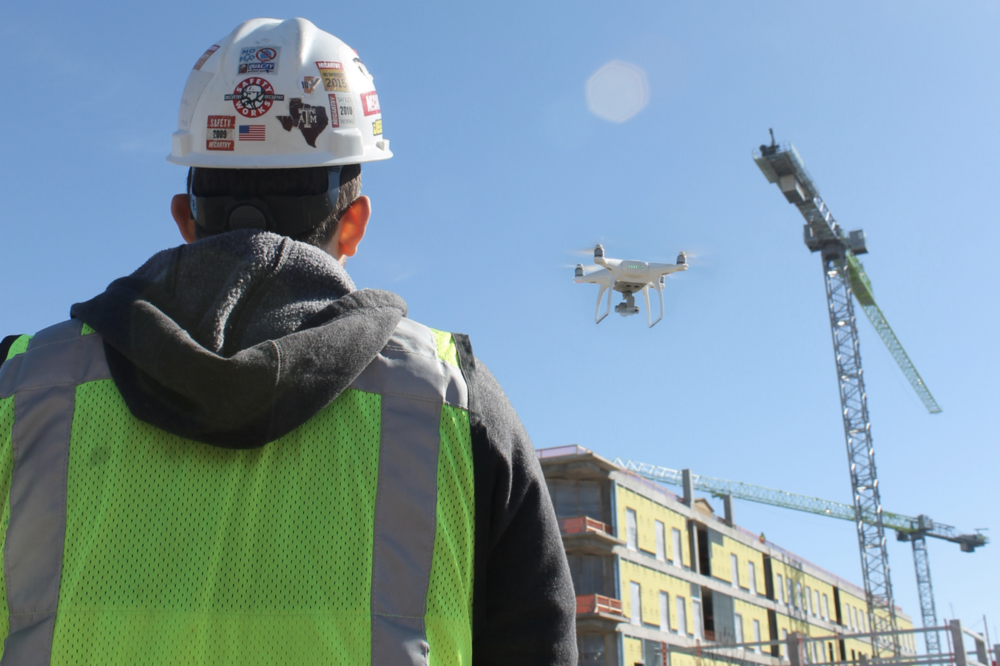 How Construction Professionals Use Drone to Build An Instant ROI
Drones are quickly becoming a must-have tool on any jobsite. Whether capturing aerial photos or videos, or generating detailed 3D models through the use of photogrammetry, drones enable the inspection crew to rapidly gather information during all phases of construction in a safe, economical, and practical way. Construction professionals found considerable benefits in the following areas.
Monitor: Project Monitor and Site Inspection
Real-time drone maps create a snapshot you just can't get at ground level. Many companies choose to conduct mapping flights of the jobsite each week. This regular, overhead view is invaluable when it comes to tracking progress and inspecting for safety issues. Drone maps and models not only provide an aerial view of your entire project, but each map includes a rich set of data that can be used to further measure and analyze just about anything on a site.
I can tell how many square feet of roof we've put down, how much square footage of concrete is left to pour. If we're trying to figure out truck access, we can measure the width of a road or gate or how much room we need to clear out for material to make the site clean and organized. "

Ryan Moret, Field Solutions Manager, McCarthy Building Companies
Collaboration and information sharing
In contractor meetings, having a clear display of any current site issues is a powerful communication tool. Drone data can be used to review the work of site contractors. With quick access to this type of information, a site manager can easily hold a contractor accountable and save downtime by requesting changes to work before the contractor leaves the jobsite.
Likewise, having an up-to-date drone map helps distribute information efficiently, even among large teams.

If I need a contractor to be aware of a design change before he lays pipe, I simply walk over to him with my tablet, blow up a particular section of overlaid plans and show him exactly what he needs to know. I have it all in a PDF, so I can pencil in the new route of the pipe right there in front of him and then send the information over to the engineers. This cuts out weeks of back and forth and boils it all down to less than an hour."

Nick Johnson, Contract Project Manager, Tilt Rock of Texas
Improve Employee–Client Safety
The comprehensive overhead view helps managers spot potential
hazards sooner, and take action before a problem becomes larger.
By allowing inspectors to perform remote inspections with real-time information, drone mapping reduces the amount of time workers spend in dangerous areas. If an inspector can reduce the time spent on a roof by 3–4 hours, that's 3–4 hours he is on the ground and out of harm's way.
Keeping external stakeholders informed with drone maps and models not only ensures everyone is on the same page, but it also reduces the frequency of walkthroughs–and the chance of a client being injured while on site.

Use Drone Data to Calculate Stock-pile Volume
Aerial surveying relinquishes some of the precision of GPS method in exchange for the generation of substantially more points. Where typical GPS surveys for stockpile volumes are measured in square meters per point, aerial surveying creates hundreds of points per square meter. For example, the stockpile volume that was measured in a study was calculated using 275 points for the GPS method, while aerial survey method generated 368,400 pointsUse Drone Data to Calculate Stock-pile Volume

With a relatively small investment in time and money, we were
able to verify field conditions and complete an analysis that would have otherwise taken much longer and been much more expensive. We received a very high ROI in this instance"

Jesse Creech, VDC at Brasfield & Gorrie