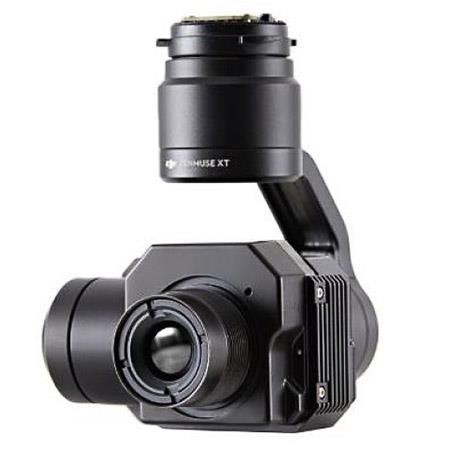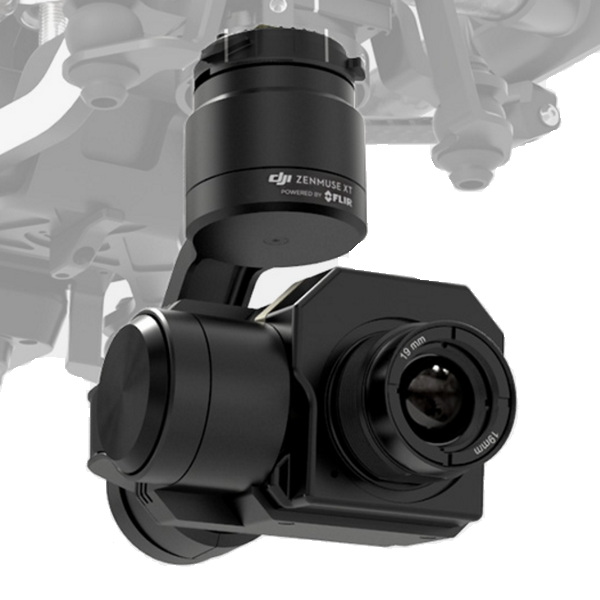 INTEGRATED THERMAL CAMERA
The camera on the DJI Zenmuse XT is developed by FLIR. It provides high-sensitivity (50mK) thermal imaging at 640/30 fps or 336/30 fps depending on the camera model. This sensitivity provides accurate temperature measurements ideal for analytics and telemetry. Both cameras are available with four lens options to meet different business needs. Stabilized and controlled by a custom DJI gimbal, it provides smooth, clear imagery and 360 degrees of seamless rotational movement.
Thermal Imager
Uncooled VOx Microbolometer
FPA/Digital Video Display Formats
640×512
336×256
Pixel Pitch
17 μm
Exportable Frame Rates
<9Hz
Sensitivity (NEdT)
<50 mK at f/1.0
Photo Formats
JPEG (8 bit) / TIFF (14 bit)
Video Format
MP4
Digital Zoom
2x, 4x, 8x
2x, 4x
Lens Options
7.5mm, 9mm, 13mm, 19mm
7.5mm, 9mm, 13mm, 19mm
PERFORMANCE(STANDARD) MODEL
Quickly Visualize Temperature Differences
Performance model Zenmuse XT cameras display thermal imagery in real time while showing a temperature estimate at the center of the camera view, so users can quickly identify large temperature differences.
Engineered for: Emergency Responders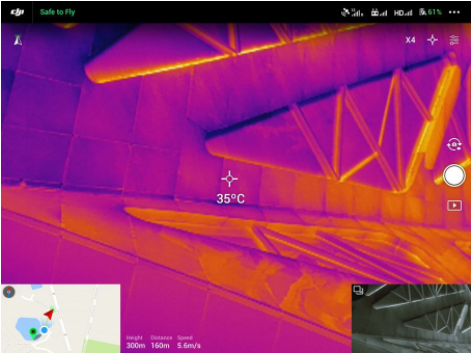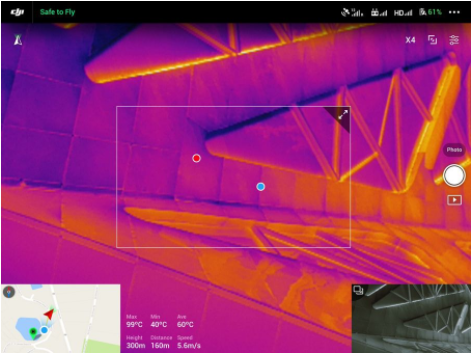 RADIOMETRIC MODEL
Capture Detailed Temperature Data
The Radiometric model allows users to tap any pixel for accurate temperature measurements or select an area to display average, highest, and lowest temperatures within the selection.
Engineered for: Inspectors
APPLICATIONS
See the unseen. FLIR cameras reveal details invisible to the naked eye by making subtle differences in temperature visible. This new view on the world can reveal when equipment or buildings are damaged, the location of lost people and much more.


SEAMLESS INTEGRATION
Mounted to the Matrice 100, Matrice 200 Series, Matrice 600, or Inspire 1, the Zenmuse XT allows professionals to takeoff and capture detailed thermal aerial images in a matter of seconds.  Seamlessly integrated, the Zenmuse XT offers complete access to key DJI drone features such as a long-range video transmission, Intelligent Flight Modes, and customization through the DJI SDK.
Older Zenmuse XT models may require an upgrade to be compatible with the M200 Series. Actual flight times vary based on drone model, payload, and flight conditions.
PURPOSE-BUILT APPLICATIONS
DJI XT Pro
Thermal Imaging Made Easy
Enhance your control of the Zenmuse XT thermal camera with the DJI XT Pro iOS app. Incorporating feedback from firefighters and industrial inspectors, the XT Pro app has a streamlined design that makes using the XT camera for critical missions simple and easy.
Real-time, low-latency camera view
On-screen temperature estimates
Quick access to color palette, isotherm and other settings
Compatible Drones
Matrice 100, Matrice 200, Matrice 600, Matrice 600 Pro, Inspire 1
Mission Profiles
Fire scouting, electrical inspections, search and rescue operations, solar panel inspections, building and roof inspections.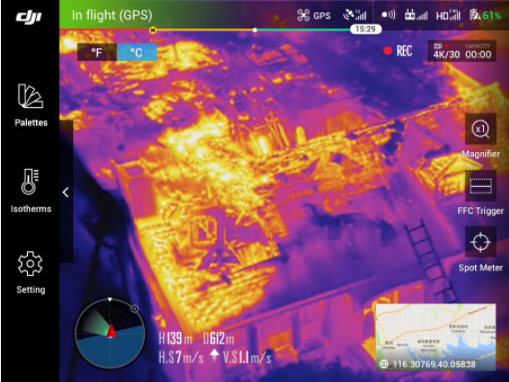 GENERAL
| | |
| --- | --- |
| Model | Zenmuse XT |
| Dimensions | 103 mm x 74 mm x 102 mm |
| Weight | 270 g |
GIMBAL
| | |
| --- | --- |
| Angular Vibration Range | ±0.03° |
| Mount | Detachable |
| Controllable Range | Tilt:+35° to -90°; Pan:±320°; Roll:±15° |
| Mechanical Range | Tilt:+45° to -135° Pan:±320° Roll:±45° |
| Max Controllable Speed | 120°/s |
IMAGE PROCESSING & DISPLAY CONTROLS
| | |
| --- | --- |
| NTSC/PAL (field switchable) | yes |
| Image Optimization | yes |
| Digital Detail Enhancement | yes |
| Polarity Control (black hot/white hot) | yes |
| Color & Monochrome Palettes (LUTs) | Yes |
Digital Zoom

640 × 512:

2x, 4x, 8x

336 × 256:

2x, 4x
CAMERA
Thermal Imager
Uncooled VOx Microbolometer
FPA/Digital Video Display Formats
·         640 × 512

·         336 × 256

Analog Video Display Formats
720 × 480 (NTSC); 720 × 576 (PAL)
Pixel Pitch
17 μm
Spectral Band
7.5 – 13.5 μm
Full Frame Rates
·         640 × 512:30 Hz (NTSC) 25 Hz (PAL)

·         336 × 256:30 Hz (NTSC) 25 Hz (PAL)

Exportable Frame Rates
7.5 Hz NTSC; 8.3 Hz PAL
Sensitivity (NEdT)
<50 mK at f/1.0
Scene Range (High Gain)
·         640 × 512:-13° to 275°F (-25° to 135°C)

·         336 × 256:-13° to 212°F (-25° to 100°C)

Scene Range (Low Gain)
-40° to 1022°F (-40° to 550°C)
Spot Meter
Temperatures measured in central 4×4
File Storage
Micro SD Card
Photo Format
JPEG, TIFF
Video Format
MP4
ENVIRONMENTAL
| | |
| --- | --- |
| Operating Temperature Range | 14° to 104°F (-10° to 40 ℃) |
| Non-Operating Temperature Range | -22° to 158°F (-30° to 70 ℃) |
| Temperature Shock | 5 ℃/min |
| Humidity | 5% to 95% |
LENS MODELS